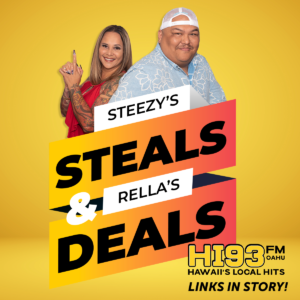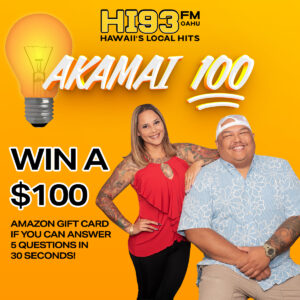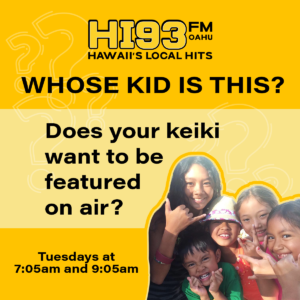 Say Aloha Kakahiaka with "The Morning HI", hosted by Steezy and Rella!  Our super hosts are proud to have been born and raised on Oahu, getting you up every day in beautiful Hawaii Nei on the new HI93.   
Steezy and Rella go together like SPAM and rice and have a combined 40 years of experience in entertainment. Rella is a graduate of Saint Francis while Steezy wore his cap and gown at Nanakuli High School.  Long before they first woke Hawaii up with "The Morning HI", our classic duo knew each other for many years having first rubbed elbows at i-94 (93.9FM).  
Rella is no stranger to the art of multi-tasking. While at i-94 from 2003-2007, she tackled overnights from midnight to 5:30am and delivered the latest traffic news for not only i-94 but also Island 98.5, all while producing the latter's morning show with local legends, Lanai and Augie. Rella went from producer to morning show co-host when she glided over to 1027 Da Bomb to join Sam the Man; this would become her first number one morning show! As Rella left 1027 Da Bomb for a short hiatus in 2010 to focus on family, Steezy was just entering the Bomb world, where their paths crossed would eventually cross again.  
After she returned to Ohana Broadcast Company (now Pacific Media Group), Rella's signature voice entertained listeners on all 4 company stations, where her versatile charisma perfectly clicked with each of our stations' specific genres.  In 2016, Rella embarked on her second journey as a morning show co-host on 1027 Da Bomb.  "Keola and Rella In the Morning" quickly climbed the ranks, which gave our superstar host her second number one morning show.  Since March of 2020, Rella has been one-half of "The Morning HI" with Steezy where she strives to work her magic for a third number one morning show! 
Steezy's lengthy entertainment career began in 2000 as a recording artist under Tiki Entertainment.  Not only is he an accomplished radio host, he drops bars with local rap supergroup, the "Angry Locals".  In 2007, he unleashed his winning personality and trademark laugh onto the airwaves at i-94, where he first met Rella, on the weekends and at night.  In 2010, he shifted over to 1027 Da Bomb, where he conquered nighttime radio for 10 years with his number one show "#THESTEEZYEXPERIENCE".  
Steezy continued to utilize his talents when he became the morning show producer for "Keola and Rella In the Morning", amplifying the show's popularity while keeping the show in the number one spot.  Our stylish hip hopper took his expertise to "The Morning HI" in March 2020 and shares his unique brand of Aloha alongside Rella every morning.  When he's not on the airwaves, Steezy is a highly sought out Event and Wedding Emcee, and is an Event Coordinator for TJ's Bar and Grill, where he owns an entire table.  A big guy with big Aloha for everyone he meets, Steezy's passion for multimedia is evident in his willingness to dive into anything and everything.  The obvious determination he has to produce quality material and the natural tone in his work resonates with fans all over the world. 
When you tune in while driving or stream HI93 online, you'll get a chance to win the biggest prizes and you'll get up to speed on trending news and topics delivered to you by Steezy and Rella.  With their everlasting devotion to our local community and magnetic personalities, our mega squad was made to wake Hawaii up every day on "The Morning HI". They bring you the latest traffic alerts and local news on "HI93 News" while highlighting unique shopping bargains with "Steezy's Steals and Rella's Deals".  Go back in time with "Do You Remember?" as they reminisce on the purely local culture of yesteryear. Looking for local companies to support? They got you covered with "Monday Mana'o"; or if you're spreading aloha in your community, Steezy's coveted "YEA YOU" shout out recognizes your goodwill and positive spirit.  If you need to vent, look no further than "Rella's Rants", tita tantrums and mad moke moments galore!  How about some "Ni'ele News"?  All the celebrity gossip and hottest topics helping you to stay in the know!  Steezy and Rella are dedicated to their listeners and followers, and it's clear that "The Morning HI' is made by locals, for locals.