Our thoughts and prayers are with Maui. Stay strong, stay safe. Please see below for how to help Maui, news updates, and shelter resources.
Quick links for news updates and how to help:
---
How to Help
Monetary Donations
Here's a list of organizations to donate to. We encourage everyone to do their own research on where to donate, especially if donating to a GoFundMe/crowd fund.
Hawaii Red Cross
Mālama Maui Telethon
Join the American Red Cross of Hawaii, PMG Oahu, KHON2, KHII to raise funds for those affected by the Hawaii wildfires.
TODAY, August 14 from 5-10AM, call (855)-551-4483 or donate online at this link.
---
Other organizations:
Aloha United Way
Maui Fire Relief Fund
Donations will go directly to Maui United Way to support Maui victims.
Website: www.auw.org/
Hawaii Community Foundation
Maui Strong Fund
Proceeds will go to HCF which will prioritize nonprofit organizations that are supporting community-based rapid response and recovery efforts. Funding will support evolving needs, including shelter, food, financial assistance, and other services as identified by our partners doing critical work on Maui.
---
Benefit Concerts
Join Hawaii's Finest Clothing and Hi93 Oahu for a benefit concert. 100% of the proceeds from ticket sales + $1 from every drink (courtesy of The Republik) will be donated to our Maui community.
When/Where: Friday, August 18 from

8:00 PM

  to Saturday, August 19, 2023

1:00 AM at The Republik

Featuring: David Grace, B.E.T, High Watah, Chardonnay, Lion Fiya, Irie Love
Proceeds from Wiwoʻole #MauiStrong will be stewarded through Native Hawaiian 501(c)(3) 'Āina Momona [EIN 82-1366588] at WIWOʻOLE MAUI BENEFIT CONCERT and the Maui Strong Fund at The Hawai'i Community Foundation [EIN 99-0261283].
When/Where: Saturday, August 19, 12:30 – 3:30 PM HST, Worldwide Livestream

Featuring: Participating Artists include GRAMMY® and Nā Hōkū Hanohano Award Winners: Amy Hānaialiʻi, Cody Pueo Pata, Ekolu, Hoaka, Kalani Peʻa, Kanekoa, Kamaka Kūkona, Kimié Miner, Kūikawā, Piʻilani Arias, Raiatea Helm, Waiolohia , Hālau O Ka Hanu Lehua, Kumu Hula Kamaka Kūkona, Hālau Kekuaokalāʻauʻalaʻiliahi, Nā Kumu Hula , ʻiliahi And Haunani  Paredes, Hālau Nā Lei Kaumaka O Uka, Kumu Hula Nāpua Silva, and more…
How to listen: Tune into our Maui PMG stations and www.kaainamomona.org

for the live broadcast!

Maui PMG Stations:
---
Fundraisers
Hawaii's Finest Clothing
100% of proceeds from the Maui Strong/Pray for Maui shirts will go help aid Maui. UPDATE: Due to an overwhelming response, pre-orders have been closed.
Show Aloha Maui
Purchase a Show Aloha Maui shirt, and 100% of the proceeds will help the Maui families affected by the fire.
Website: support.showalohachallenge.com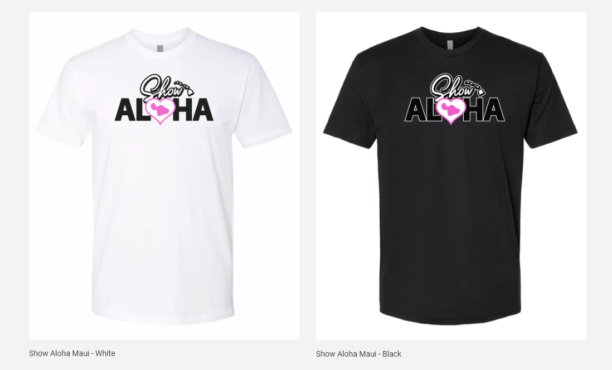 ---
News Reports/Updates:
Comprehensive lists/resources for:
News Sources
---
Shelter Resources:
Hawaii Red Cross